In her book Almost Christian: What the Faith of our Teenagers is Telling the American Church, my seminary professor Kenda Creasy Dean argues that the largest predictor for the quality of faith in a teenager and young adult depends on the quality of faith of the significant adults in their lives.
Dean also suggests that the most important thing about these relationships is that they last well into the years that immediately follow graduation from high school.
At BCMC, we seek to provide students from grades 7 to 12 with a mentor that will help them navigate their emerging Christian faith, values, and goals in the context of our pluralistic culture. In these relationships, youth have an opportunity to develop a significant adult relationship that serves to compliment their existing relationships with parents.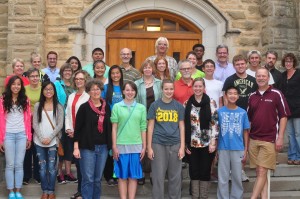 The mentoring program is one of the foremost ways that BCMC practices being a truly intergenerational community. Mentors often spend time helping youth learn how to drive, bake, or play music. Mentor pairs rotate in taking care of children in the nursery during worship services. Mentors often can be spotted at sporting events or concerts supporting their mentees.
The mentoring program is also one of the foremost ways that we practice stewardship. By being stewards for the lives of youth – being with them through years that can be profoundly disorienting – we are caring for and valuing the most important gifts that God has graciously given us.
BCMC youth are all young people currently developing skills for leadership in the diverse activities that they engage in on a weekly basis. Someday soon, they will be sent out and scattered into the world as agents of God's love. For now, as our mentors know, the mentoring program is one way that BCMC sends God's love to them.
– John Tyson
To read previous columns, click on "Pastor's Post" below and then scroll down: