Bethel College Mennonite Church is a Christian congregation grounded in 16th century Anabaptist Mennonite witness. BCMC was founded in 1897, ten years after Bethel College in 1887. The congregation joined the regional Western District Conference in 1898, and the General Conference Mennonite Church denomination in 1899. Currently BCMC is a member of Mennonite Church USA, formed in 2002 from the integration of the General Conference Mennonite Church and the Mennonite Church. Locally, BCMC maintains a special relationship with Bethel College and Kidron Bethel Village, and supports the work of other Mennonite organizations.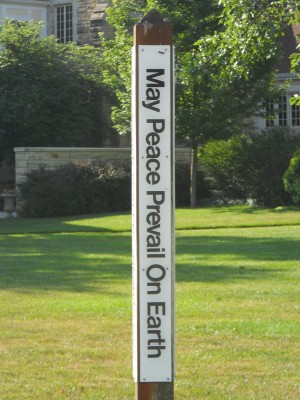 The congregation first met in the chapel of the college administration building, and moved in 1956 to a new facility on the south side of campus. In 1961 a Möller pipe organ was installed, and in 1987 additions to the building provided a new entrance with elevator, and additional classrooms and offices.  Other interior and exterior improvements and organ renovation were completed 2013-2017 as part of Living Stones.  To access a list of BCMC pastors throughout the years click here:
Historical-information-about-pastors-at-BCMC.pdf
As a congregation, we unite under the reign of God as a community of love, peace and justice, nurturing relationships in Christ and exercising the gifts of the Holy Spirit.
We participate in God's work by joining together to fulfill our ministry and needs. More specifically, we seek to do the following:
Unite in the worship and praise of God;
stimulate Christian growth and discipleship;
provide opportunities for fellowship, sharing and support among members;
engage in service and outreach; practice hospitality;
and invite others to faith.
Membership is open to all who affirm faith in God, seek to live as disciples of Jesus Christ as their Lord and Savior, are open to the presence and guidance of the Holy Spirit, and who have received Christian baptism as the symbol of their commitment and covenant. We strive to support Mennonite principles and to share in the life and work of this congregation.
(Other resources include: BCMC Constitution and By-Laws; Campus,
Congregation and Community: The Bethel College Mennonite Church 1897-1997 by Keith L. Sprunger; and Confession of Faith in a Mennonite Perspective by Mennonite Church USA.)