Gratitude for the Past, Building for the Future
Background: In 2012 the Bethel College Mennonite Church congregation approved long-range plans for the church facility and programs that reflect the congregation's vision and mission, provide for ongoing maintenance and repair of major systems and components of the facility, and renovation of the 50-year old pipe organ. A funding campaign took place in Fall 2012 and Spring 2013, and the congregation authorized borrowing additional funds to help cover expenses.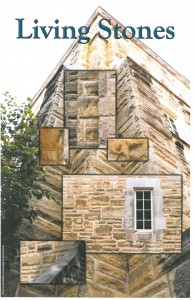 Living Stones: As the central image and theme of our long-range plan, stones represent BCMC's historical heritage and God's ongoing work of building the church in the years to come.  Stones symbolize the people who form the church, and the structure which provides a place of welcome, caring, growth, worship and witness. Christ is the Living Stone who models all these aspects of the church. Christ is our foundation and our future, even as we are the body of Christ and the dwelling place for the Spirit of God. We generously offer ourselves and our gifts as the living stones which God uses to build the church.
Report on Projects:

Roof replacement was completed in May 2013, and interior renovations were completed in December 2013 on the main floor of the church facility to create handicapped-accessible restrooms for men and women, enlarge the lobby and add a coffee-making station, create a new nursery and family restroom at rear of sanctuary under balcony, and install a new heating/ventilation/air-conditioning system.  New church signage complements these renovations.  We pray that these facilities will further congregational priorities to nurture young families, welcome those with limited mobility, and provide hospitable space for interaction and fellowship.
A celebration of the interior renovations took place Sun., Jan. 26, 2014.  That day, the 9:30 a.m. worship service included a litany of dedication.  At noon the senior high youth group served a soup lunch in Fellowship Hall, with contributions going toward the senior high youth summer service trip to Denver with the DOOR – Discovering Opportunities for Outreach and Reflection – program).  Representatives from PBA Architects and Regier Construction Company were present as guests for lunch. These representatives, along with BCMC committees, staff and volunteers who have been instrumental in the renovations, were recognized with thanks with appreciation for their part in the renovation process.
The pipe organ has also been renovated by Dobson Organ Builders.  The organ was returned and installed in January 2014, and tonal finishing was completed March 7, 2014.  Dedication of the organ took place March 9 during worship, and an organ recital and hymn festival celebrating the new organ was on Sat., April 19, at 3:00 p.m. led by organist Christopher Shaw.
Living Stones also include a variety of programming initiatives.  A new program was created for Mennonite-related higher education and service scholarships, and commissions and committees at BCMC continue addressing other priorities: Congregational community, a strong relationship between BCMC and Bethel College, multi-generational activities, service involvement and recognition, long term facility maintenance and creation care.
How can I participate in Living Stones?  Your prayers support the congregation and its leaders as they carry out Living Stones priorities; and your financial contributions to Bethel College Mennonite Church, designated for Living Stones, are essential to complete payments for these projects.  Thank you for being part of Living Stones at BCMC!

Some photos from the renovation process: