"Healing Connections: Land, People, Spirit" was the theme of the Fall Festival worship service at BCMC on Oct. 19.  It considers the call to restore right relationships with the land, with other human beings, and with God, as essential to peace and wholeness in the world.
I have pondered these connections more after attending the annual Prairie Festival at the Land Institute near Salina, KS, in September. The Land Institute is a non-profit research and education institution seeking to develop an agricultural system "with the ecological stability of the prairie and a grain yield to that comparable from annual crops" – in other words, a system of food production and consumption that is environmentally sustainable. The Land Institute mission statement says it well: "When people, land, and community are as one, all three members prosper; when they relate not as members but as competing interests, all three are exploited. By consulting Nature as the source and measure of that membership, the Land Institute seeks to develop an agriculture that will save soil from being lost or poisoned, while promoting a community life at once prosperous and enduring."
The recent Prairie Festival focused specifically on ethical, religious and spiritual foundations for agricultural and ecological sustainability.   Speakers inspired and informed us from the perspectives of biblical scholarship, philosophy, faith, and science. They provoked us to reexamine our beliefs, commitments and lifestyles in relation to the ecological disaster that human beings have created through modern agricultural and economic practices. I was struck again with the importance of making connections between environmental, social and spiritual realities. The answer to the current ecological crisis essentially lies not only in technological solutions, but in a renewed commitment to live in covenant relationship with earth, other human beings, and the Source of all being.
The Prairie Festival gave us opportunity to experience these connections in tangible ways. Demonstration plot tours showed progress in developing perennial crops. The local-foods dinner menu featured bison stew and bread made with flour from Kernza a perennial wheatgrass grain developed at the Land Institute. Music and art cultivated our spirits through songs and images of lament, hope, and beauty. Interactions with a variety of people nurtured relationships that opened new insights, perspectives and possibilities for positive change in the world.
For me, several connections at the Prairie Festival were especially meaningful.
During the break between afternoon lectures and dinner, I visited with my former seminary professor, Ellen Davis, who now teaches at Duke Divinity School. As one of the featured presenters, she spoke about Biblical foundations for earth-care. She noted that the Hebrew scriptures are rooted in a culture of farmers, while also reflecting issues of economic and political power similar to our contemporary world. It was great to catch up with Ellen, and to share memories of the Hebrew class I took from her. I am currently reading her book Scripture, Culture, and Agriculture: An Agrarian Reading of the Bible.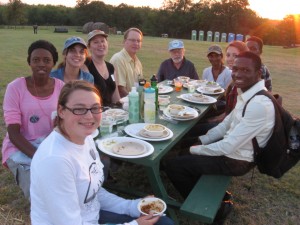 For dinner I joined a picnic table of college students. They had traveled all the way from St. Catherine College in Kentucky to attend the Prairie Festival.   I met one of the students – a freshman from Kinshasa, Congo – while standing in the meal serving line. Her name tag caught my attention, since I had lived in Congo as a missionary child years ago. She invited me to join her and her colleagues – a faculty member, and students from Uganda, Burkina Faso, India, and several U.S. locations. They explained that they were all studying sustainable farming and ecological agrarianism through the Berry Farming Program at St. Catharine College, founded recently on the lifework of activist, farmer, and writer Wendell Berry.  As the St. Catharine College website says: "For more than fifty years, Berry has been a leading voice in the sustainable foods and farms movement – nationally and internationally.  In fiction, poetry, and essays, he urges readers to support small family farms and to use nature as measure in cultivation and land-use practices.  To meet the urgent need for bolstering rural communities, small farm production, and local markets, Wendell's daughter Mary Berry Smith, Executive Director of The Berry Center in New Castle, Kentucky, sought a college with which the Berry family could further its commitment to improving farming through education.  St. Catharine College proved an ideal fit because of its devotion to land stewardship and community engagement." Wendell Berry has been a longtime friend of the Land Institute, and these students were excited to finally visit this special place in the middle of Kansas! I was equally inspired by their passion for living responsibly and creatively on the earth.
As we make healing connections with the land, people and God, may we too experience God's shalom.
– Heidi Regier Kreider
To read previous columns, click on "Pastor's Post" below and then scroll down: