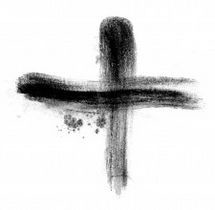 We are in the season of Lent, a time of spiritual renewal leading to Easter.  Lent is a period of 40 days, not including Sundays (since Sunday is considered a "little Easter," the first day of the week on which Jesus arose from the dead). This season recalls Jesus' 40 days of fasting and prayer in the wilderness, before he began his ministry. For Christians today, it is a time to re-turn to God and re-focus our lives more intentionally through actions and attitudes of repentance and renewal.  Since ancient times, people have chosen various kinds of spiritual practices to observe Lent.
One form of spiritual practice is abstinence – to let go of something – such as fasting from food, drink or other things that capture our attention and distract us from God.  Some people choose to fast from electronic media, soft drinks, cigarettes, meat or candy for a period of time, in order to focus more clearly on God's provision and presence in their lives. Others may fast from certain meals and use that time to pray.  Some choose to give up an attitude or activity such as worry, complaining, gossip or over-work, in order to renew gratitude, trust, compassion, and joy in their lives.
Another form of spiritual practice is to intentionally take on an act of service or commitment. This might be volunteering at the homeless shelter, collecting food for the food pantry, writing to legislators, or working on a project of reform or justice in the community.  Or, it could be offering a listening ear to a family member or friend, walking or riding bicycle to enjoy God's creation and reduce fuel consumption, caring for a neighbor's children, or spending 30 minutes each day in prayer and scripture reading.
Either way – whether we abstain from something, or add on a commitment  – it is important to remember that spiritual practices are not for the purpose of earning God's favor, impressing other people, or simply improving ourselves.  In Matthew 6, Jesus warns against ulterior motives for religious practices, when he says to his disciples:
"Beware of practicing your piety before others in order to be seen by them; for then you have no reward from your Father in heaven…  3But when you give alms, do not let your left hand know what your right hand is doing, 4so that your alms may be done in secret; and your Father who sees in secret will reward you.   5"And whenever you pray, do not be like the hypocrites; for they love to stand and pray in the synagogues and at the street corners, so that they may be seen by others. ….6But whenever you pray, go into your room and shut the door and pray to your Father who is in secret; and your Father who sees in secret will reward you….  16"And whenever you fast, do not look dismal, like the hypocrites, for they disfigure their faces so as to show others that they are fasting. Truly I tell you, they have received their reward. 17But when you fast, put oil on your head and wash your face, 18so that your fasting may be seen not by others but by your Father who is in secret; and your Father who sees in secret will reward you….25"Therefore I tell you, do not worry about your life, what you will eat or what you will drink, or about your body, what you will wear. Is not life more than food, and the body more than clothing? 26Look at the birds of the air; they neither sow nor reap nor gather into barns, and yet your heavenly Father feeds them. Are you not of more value than they? 27And can any of you by worrying add a single hour to your span of life? 28And why do you worry about clothing? Consider the lilies of the field, how they grow; they neither toil nor spin, 29yet I tell you, even Solomon in all his glory was not clothed like one of these. 30But if God so clothes the grass of the field, which is alive today and tomorrow is thrown into the oven, will he not much more clothe you—you of little faith? 31Therefore do not worry, saying, 'What will we eat?' or 'What will we drink?' or 'What will we wear?' 32For it is the Gentiles who strive for all these things; and indeed your heavenly Father knows that you need all these things. 33But strive first for the kingdom of God and his righteousness, and all these things will be given to you as well."
Whatever spiritual practices we use to observe Lent, may we open ourselves more fully to God's unconditional love and grace, follow Christ more closely, and allow the Spirit's transformation in our lives.
– Heidi Regier Kreider