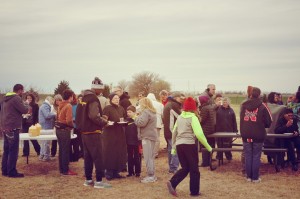 This image is captured by Austin Prouty. Austin is a senior at Newton High School and co-president of the Senior High youth group. The setting of this image is his family's home and farm; a pond sits on the right – just beyond the edge of the frame.
It's approximately 7:25 AM and it's cold. See the winter coats, the wool hats, earmuffs and blankets, and people clinging to coffee cups for the added warmth.
It is Easter morning. Before this image emerged into being, these people gathered to breathe, sing, pray, and hear scripture. They listened to the violin and the guitar, and the voices of youth and youth sponsors. All of it while the orange and pink glimmers of sunrise shot through the overcast skies, briefly, and then receded back in surrender to the clouds. The sun, present and absent almost at once.
Now they are refreshing their bodies with coffee, orange juice, delicious breads and donuts and fruit.
There is abundant conversation – conversation between young and old. Stories are being shared. Some are about how good the coffee cake tastes. Some are about how surprisingly bad the storm was a few days ago. Some conversations are about how cold it is and some are about how beautiful it is that we share this time together on Easter morning.
The story of Easter is extraordinary. God makes a way out no way and through the risen life of Jesus Christ brings new life to all that is and has ever been. We have done nothing to earn this. It is an extraordinary gift, no strings attached.
We remind ourselves of this extraordinary story, the story that brings all of our lives – all life – together, every Easter morning.
The image Austin captures reveals the ordinary side of it all. In the midst of the extraordinary, emerges the ordinary: people of all kinds together…drinking, eating, worshiping, waiting and watching out in the cold.
Can we hold these two things, the extraordinary and ordinary, together?
I wonder if that is what it means to hold onto this story of Easter – long after the sun has risen, sets, and rises again.
On Easter morning, we find the story of our ordinary lives harmonizing vividly with the extraordinary story of God's gift of new life that rises and shines right upon us.
As we move on from Easter Sunday, as the extraordinary story recedes slowly back into the clouds, absent yet present, can we search deeper into those ordinary things – calling a friend, hearing scripture read on Sunday morning, sharing zwiebach with family at faspa – to find the extraordinary, to find new life rising?
– John Tyson
To read previous Pastor's Posts, click on "Pastor's Post" below.