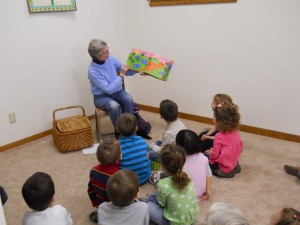 Community Playschool, Inc. is a preschool for children 2 ½ to 5 years of age. First preference for enrollment is given to families who cannot attend other preschools because of limited finances, one parent families, and those with special needs not met elsewhere. Fees are based on a sliding scale.
This program began in 1966 and was designed to
supplement the children's home experiences in a stimulating learning environment

free parents of child care responsibilities two mornings a week

provide opportunity for persons of differing backgrounds to know and respect each other

provide educational information for parents and volunteers to gain better understanding of children's needs

benefit children who would otherwise not have opportunity to attend preschool.
All classes meet in the lower level of our church building from the beginning of September to the middle of May. One group of children comes Tuesdays and Thursdays and the other group Wednesdays and Fridays from 9:00 a.m. to 11:00a.m.
Call the church office at 316-283-3667 to be connected to the director with questions about enrollment.